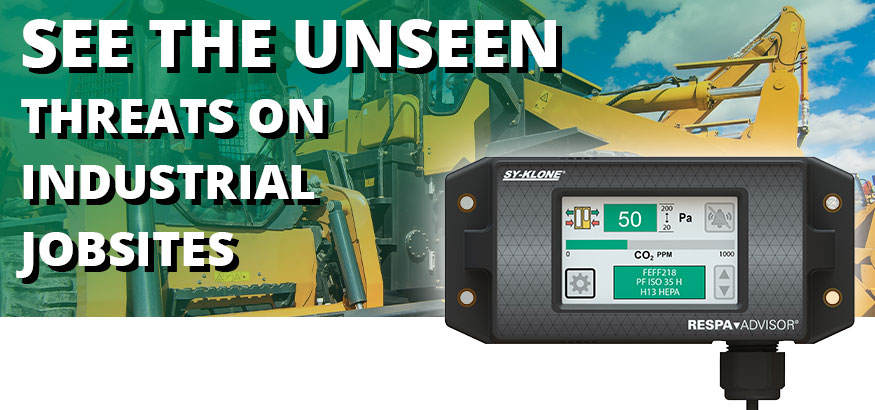 Do you know what your workers are breathing?
Did you know that silica dust can be 100 times smaller than a grain of sand? These can be breathed in without your workers even knowing it! This and other harmful respirable particulate can enter mobile heavy equipment and fixed plant cabins if left unprotected.
The RESPA® Advisor+ and RESPA® Advisor cab monitors provide machine operators the ability to see the unseen threats on industrial jobsites, including unsafe levels of CO2, which can lead to operator fatigue and loss of alertness, and loss of cab pressure, which can allow harmful respirable particulate to enter the cab. The RESPA® Advisor+ is ISO 23875 compliant and is one of the only compliantmonitoring solutions on the market.
NOTE: A monitor system is recommended for use with all Sy-Klone RESPA® Cab Air Quality Systems.
RESPA® Advisor Pressure Monitor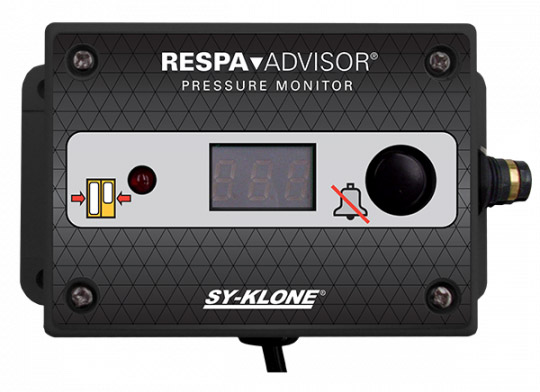 The RESPA® Advisor Pressure Monitor System for 12 and 24 volt systems is the third component which makes up the RESPA® Cab Air Quality System.
5V variable output signal can be used for remote monitoring systems.
Units can be set to inches of water column (default) or Pascal.
Audio Alarm can be set to on or off; if engaged, volume can be adjusted.
Realtime pressure read out.
Easy to install.
RESPA® Advisor+ Pressure and CO2 Monitor
The only ISO 23875-compliant in-cabin pressure and CO2 on the market!
Designed for the Cab environment, its small size and dark colour scheme blends into any operator cab environment, while the matte surface texture eliminates fingerprints and glare, a potential visual safety concern.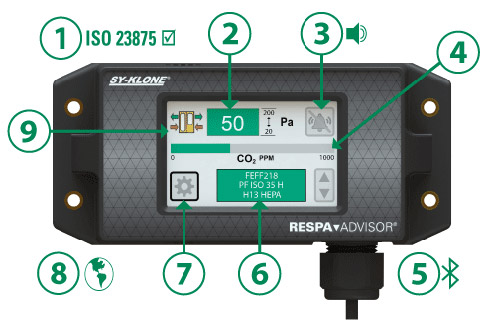 Technical Details
ISO 23875-Compliant Monitor – Meets ISO 23875 performance requirement for real-time operator cab monitoring, including stringent CO2 sensor specifications.
Cab Pressurization – The monitor reports cab pressurization levels in real-time to support the machine operator's maintenance of a controlled-air-quality cab environment.
Audible and Visual Alarms – Built-in alarms alert the operator when pressurization or CO2 levels go outside of the allowable threshold.
High-Quality CO2 Monitor – Not all CO2 sensors are created equal. The RESPA® Advisor+ includes a nondispersive infrared sensor (NDIR), as specified in ISO 23875, to provide real-time CO2 data to alert operators when unsafe air quality conditions exist.
Download Data for Analysis – Gain insights into the operator cab environment with data logging at an interval you specify. Download the data via Bluetooth to the Smartphone App, allowing you to access and share data logs.
Filter Life Tracking – Take the guess work out of filter life, with manual filter tracking to ensure optimal filter life and performance.
Customizable Settings – Admin settings can be configured to suit your needs. Metric and imperial pressure units, high and low pressure thresholds, CO2 limits, alarm behaviour, data sampling intervals for logging, and more.
Ready for Job sites Worldwide – Symbol-based interface for ease of use for all users, regardless of native language, with metric and imperial units of measure.
Interactive LCD Touchscreen – Full-colour LCD touchscreen is pressure sensitive, easily navigated with press of finger tip.