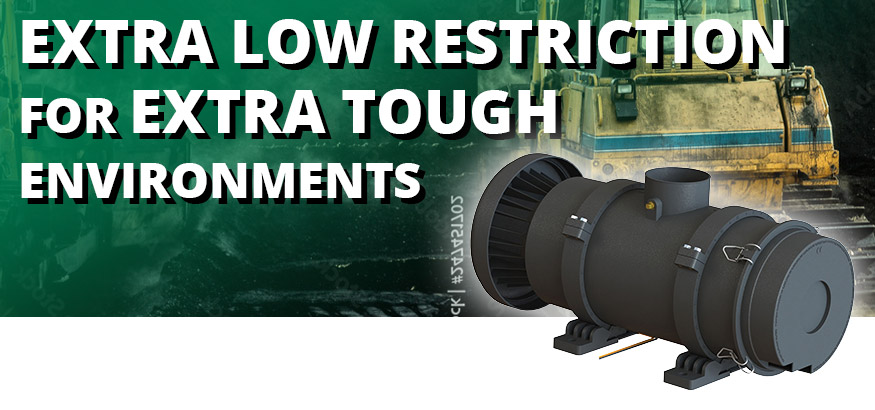 Extends Filter Maintenance Interval by 10-20X
Polar Mobility now offers the Sy-Klone XLR Powered Precleaner® for maximum precleaning in impossible environments with the lowest possible restriction to protect your engine!
This high-efficiency powered precleaner removes 99.99% of ISO fine test dust. With the addition of power, there is zero restriction up to 130 CFM (3.68 m3/min).
The XLR Powered Precleaner® offers two sizes to maximize your precleaning ability. The unique design allows for an easy air filter change with no engine contamination.
Real-World Application: Impossible is nothing!
The XLR can make a massive difference. Take for example a wheel loader in an extremely dusty Portland Cement Factory.
Before the XLR was installed, the Restriction light for the engine filter came on after only 4 hours of run time. The engine and 2 catalytic converters were dusted (had to be replaced) in the first 5000 hours of run time at a cost to the machine owner of $39,500. Downtime cost for filter changes and lost production time is estimated to be $73,375 annually
After the Dual XLR Installation, the prefilters were still operational after 260 hours of running in impossible dust conditions! The primary engine filter remained like new.
With the XLR, impossible is nothing!
Working hard wherever you are!
If you're operating in extreme environments including Agriculture, Waste, Mining, Construction and Forestry, or anyplace where restriction is a problem – you need the XLR Powered Precleaner®!
High-efficiency powered precleaner removes more than 90+% of the dust BEFORE it reaches the prefilter.
High-efficiency radial seal prefilter then removes 99.99% of ISO fine test dust.
Patented self-cleaning prefilter drops dirt continuously, which is then ejected from the XLR filter housing.
How XLR works:
XLR = eXtra Low Restriction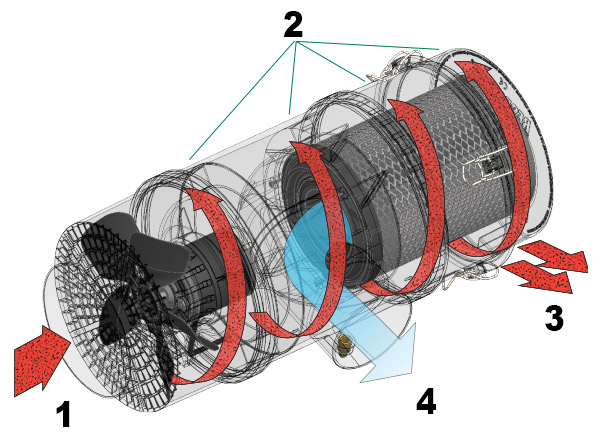 Debris-laden air enters the precleaner.
The motor whips the air into a vortex with the debris riding along the outer walls.
Debris is ejected from the precleaner.
The clean air in the center of the system is then pushed through the filter with very low restriction.
The filter and housing are self-cleaning as debris falls off the filter and is then ejected from the housing.
Make sure your equipment can handle the most extreme environments
Contact us