RESPA Air Filtration
CF2 Powered Cabin Pressurizer System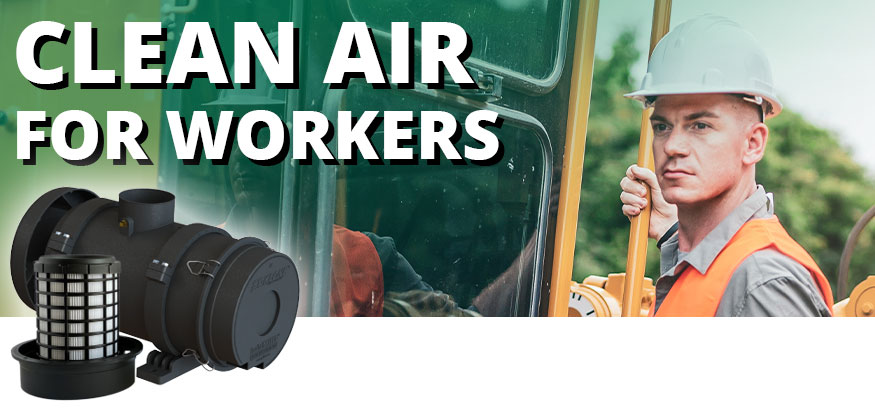 Learn more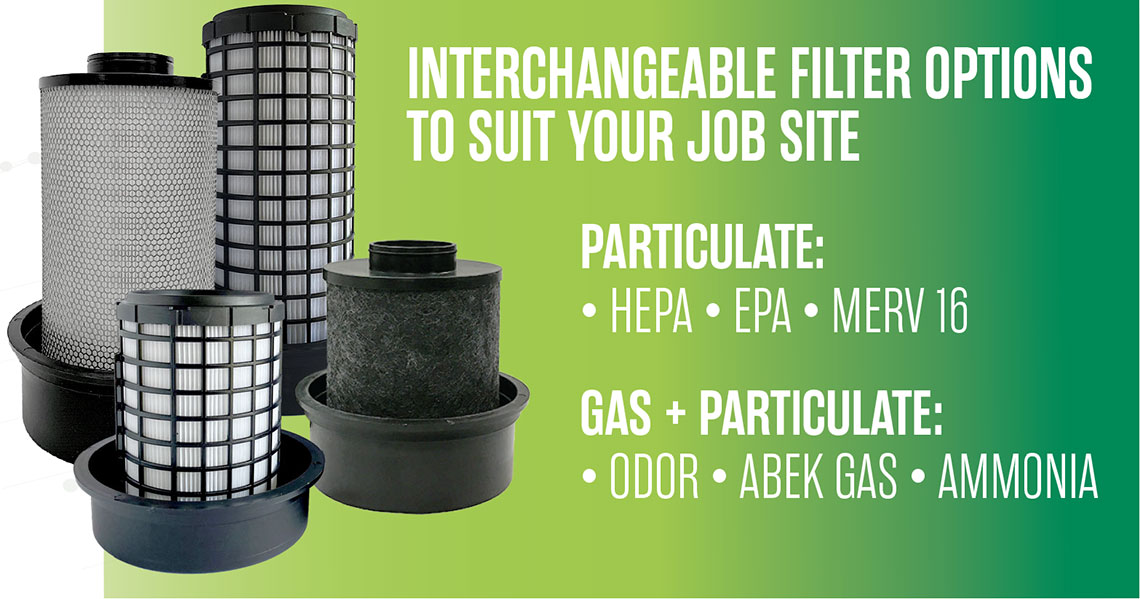 Reduce machine operator exposure to harmful respirable dust, toxins, odours, and gases!
The RESPA®-CF2 is the most advanced Cab Air Quality System available, delivering a powered precleaner, filter, and pressurizer in one compact, customizable unit. This innovation from Sy-Klone® International offers the highest quality of filtration and pressurization at the lowest costs. Cost-effective and easily assembled, this system extends the HVAC system maintenance intervals while dramatically extending filter life – which saves on filter and labour costs to the user. The powered precleaning technology allows cabs/enclosures to sustain positive pressurization while keeping particulate out.
The risk of ignoring the Safety and Health of employees is just too high.
Deliver clean, pressurized air to your operators! This powered precleaner removes 90+% of dust and ejects it out of the housing BEFORE it reaches the Hi-Efficiency filter. Clean Air is then delivered to the cab in a positive airflow which pressurizes the cab keeping dust OUT. Make sure you meet exposure reduction goals and TITLE: CF2 Powered Cabin Pressurizer System health and safety initiatives, reduce exposure to harmful respirable particulate, odours, toxins, and gases with interchangeable filter offerings!
Keep Money in Your Pockets and Operators in Your Cabs!
INCREASE UPTIME and REDUCE COSTS: Affordable: This cost-effective system extends HVAC system maintenance intervals. Dramatic filter life extension saves on filter and labour costs.
MAINTAIN CAB PRESSURIZATION: Powered precleaning allows cabs/enclosures to sustain positive pressurization, keeping particulate out.
MEET REGULATORY REQUIREMENTS: RESPA®-CF2 can be a cost-effective solution to help meet Permissible Exposure Limits (PEL) and protect operators. The RESPA®-CF2 reduces exposure to all forms of repirable particulate, including diesel particulate matter (DPM), asbestos, and respirable crystalline silica (RCS).
OPERATOR COMFORT: Cab stays cleaner, more comfortable, keeping operators happier, healthier, and more productive.
Partial List of Applications
All enclosed operator cabs in all environments
Heavy equipment cabs
Stationary equipment cabs
Cranes
Drills
Pipe laying machines
Power Generation and Distribution
Ventilated electric boxes
Electronic cabinets
Electronic control Rooms
Computer Server Cabinets
Environmentally controlled spaces:
Electronic control rooms
Portable field offices
Military Portable command posts
Crusher cabins
Clean rooms for engine rebuilding
Dyno rooms
Cell tower control rooms
Crew quarters in mining applications
How it Works: Trust The "Sy-Klone® Effect"
Dirty air enters the precleaner housing through the inlet end.
The debris-laden air is directed into a rotation – a "Vortex" – pushing the debris to the outside walls through centrifugal force. The debris rotates towards the outlet end.
Debris is ejected through the ejection port, and the fine dust that remains passes through Sy-Klone®'s self-cleaning filter.
After passing through the high-efficiency filter, clean air is passed downstream to the engine and engine air filter through the outlet end.
Breathe a sigh of relief with the RESPA®-CF2
The separation and ejection of debris, and high-effficiency filtering, all of which precleans air, is The Sy-Klone® Effect!
Contact us Today!