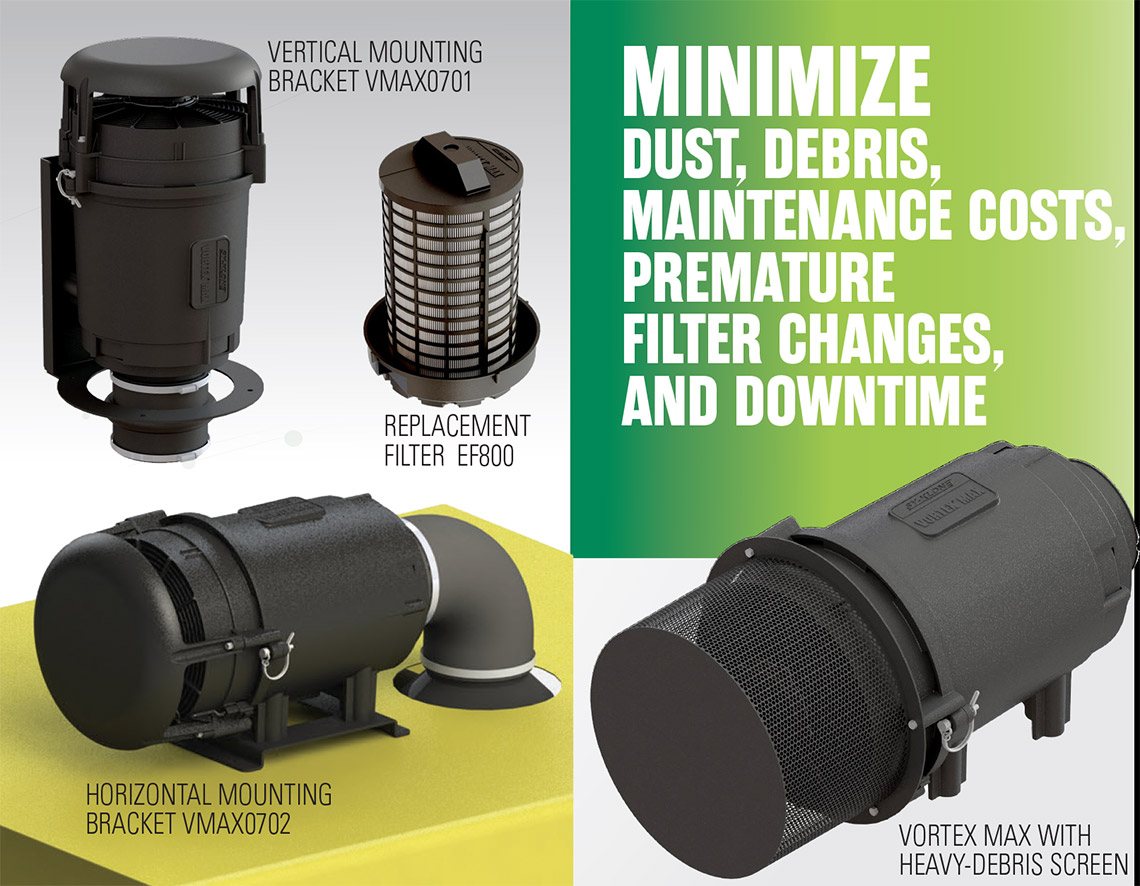 Minimize dust, debris, maintenance costs, premature filter changes, and downtime!
Protect your machines by cleaning the air before it even enters the engine with the Sy-Klone Vortex® MAX patented engine precleaner. Combining high-efficiencyfiltration and proven powered technology, the Vortex® MAX defends your engine from the harmful impact of dust and debris.
The small footprint, high-airflow system (900 CFM, 25.48 m3/min) provides constant and sustained precleaned air downstream to the engine, improving machine performance, reducing costly downtime, and lowering the total cost of ownership.
Is downtime robbing your business?
High-Debris work environments aren't easy on engines. Exposed to constant dust and debris, your machines will need more maintenance, leading to more downtime and a shorter lifespan.
The Vortex® MAX fights back in the toughest of conditions, saving your engine, and saving your money.
Regardless of the machine's operating state, the Vortex® MAX doesn't let its guard down. Even in idle, it provides sustained clean airflow.
Protect Heavy Mobile Equipment and Machinery in High-Debris Work Environments, Including:
Mining
Demolition Construction
Quarries / aggregate Concrete processing
Waste and recycling, landfills, and transfer stations
Agricultural and harvesting
Forestry and timber
Other high-debris job sites
How it Works: Trust The "Sy-Klone® Effect"
Dirty air enters the precleaner housing through the inlet end.
The debris-laden air is directed into a rotation – a "Vortex" – pushing the debris to the outside walls through centrifugal force. The debris rotates towards the outlet end.
Debris is ejected through the ejection port, and the fine dust that remains passes through Sy-Klone's self-cleaning filter.
After passing through the high-efficiency filter, clean air is passed downstream to the engine and engine air filter through the outlet end.
The separation and ejection of debris, and high-efficiency filtering, all of which precleans air, is The Sy-Klone Effect. Contact us to find the right precleaner today!
Contact us