Series 9000: 9001R 4-inch
Sy-Klone Single Stage Precleaner
for 275 to 350 CFM (7.79 to 9.91 m3m)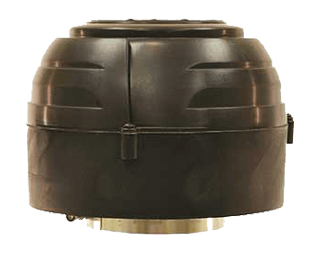 Product Description
Sy-Klone Part Number: 9001R
Single-stage precleaner with clamp for airflows from 275 to 350 CFM (7.79 to 9.91 m3m). Fits 4 inch inlet; adaptation parts are available for other inlet sizes.
Order according to airflow requirements. Please check the Series 9000 Sizing Wizard or confirm that you are ordering the correct model precleaner, as precleaner size is determined by airflow requirements, not your machine's air inlet size. The Sizing Wizard will also specify whether or not your machine will need an installation kit.
Make sure you allow miniumum hood clearance between the base of the precleaner and the hood to ensure proper operation. In general, this should be equal to the precleaner outlet size. For example, a 4-inch precleaner should have at least four inches of clearance between the hood and the base of the precleaner, a 6-inch precleaner should have at least six inches of clearance.
Model
Dimensions

in inches or millimeters (ID=inner diameter)

Airflow: CFM or m3/m
Weight
Min Hood Clearance
A
B
C
D
E
D+E
Min
Max
lb or kg
inches or mm
9001R
inches
4.031 ID
8.507
2.603
0.9
5.768
6.288
275
350 CFM
2.4lb
4.0
mm
102.38 ID
216.1
66.1
22
146.5
159.7
7.79
9.91 m3/m
1.089 kg
101.6